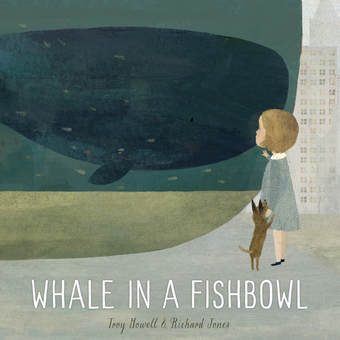 This is the third from a pail full of odds and ends I'm blogging about that involves the creation of Whale in a Fishbowl.
I don't choose names for my characters randomly. I choose them with care, and often after a fair amount of research. I've occasionally made a long list of names for just one character before settling on the right one.
The reasons behind the naming process are varied. It may be the sound of the name. It may be a literary connection. It may be the meaning. Symbolism. Wordplay. We usually associate a name with something or someone we're familiar with. The name Abe, for example, can convey a particular personality or even physical traits. Some names are chosen to enhance a theme. Other reasons have to do with the time period and culture, including trends, in which the story is set. Some names have a stigma attached, such as Judas.
Here's what led me to the name Piper, the girl in
Whale in a Fishbowl
. In the first draft she had no name, only a girl who passed by, because at that stage I wanted to get the story down. Then I named her Windy, because she comes and goes in a moment, has a breezy personality, and sets in motion the whale's character arc. But the whale's name is Wednesday and the alliteration called attention to itself, away from the story. A whale named Wednesday was enough.
During my research on whales I found a folktale from the
Marshall Islands
, a story that is part of the island culture, often chanted to children as a bedtime ritual. It involves sandpipers and whales. Sandpiper — of course! Shortened to Piper it was perfect. It reflected both subjects of sea and song, and was more true to the girl's nature than the other name: she pipes a message to the whale that should have been said long ago by an adult, protesting the whale's captivity. Her message has a stirring effect on Wednesday, and is the catalyst for Wednesday's inner conflict and ultimate change.
Children often speak truth more readily than grownups.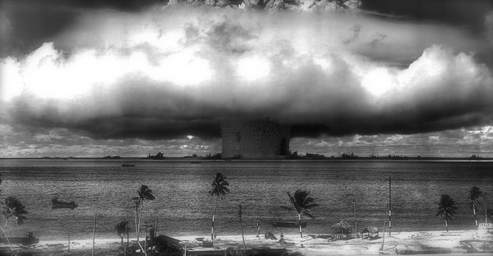 The book has an environmental theme (please see
"Bloom"
), which is another reason I chose the sandpiper reference.

The Marshall Islands

were used by the US as
nuclear bomb test sites
from 1946 to1958, and many of the islands remain radioactively hazardous to this day, causing some inhabitants to stay in exile.
On to Digger. As it was with the blue paisley motif (please see
"paisley patterns"
), so it was with the dog;
Richard Jones
instinctively added one in his illustrations without knowing my first version read: "People clapped. Dogs barked. Cars beeped." No cats, no pigeons, no crows — dogs. Richard created a visual subplot in which a homeless dog and the girl find each other, another brilliant decision on his part. Piper is exactly the kind of girl who would give a dog a home —
her
home. It strengthens the theme of finding where you truly belong. A place where you can sing.
Here is Richard's account.
About a decade ago I read an advert at work for a dog who needed a home. Her owners were getting divorced and neither could take her with them. I knew the instant we met that she was perfect. Her name was Megan. She'd had a troubled past and it bubbled up to the surface every now and again, like when she pulled the postman's shorts down or chased a deer into a field of corn and was gone for 40 minutes. But she was a beautiful, intelligent, kind creature, and she was my best friend.

After she died two years ago I had resolved to be dog-free, but an animal charity called and wondered if I'd like to meet a little dog who had been rescued recently. His name was Digger. Digger was small, brown and had the biggest pair of ears I'd ever seen.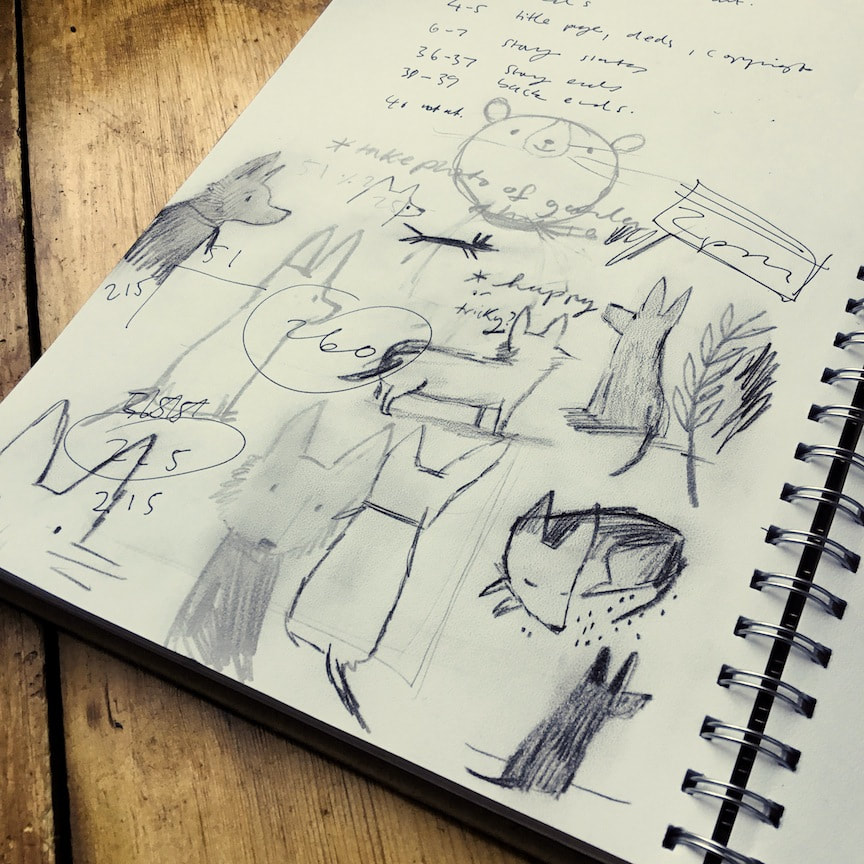 I was sketching out the pages for Whale in a Fishbowl when the charity called and I continued to doodle in my sketchbook as we talked. Soon Digger began to take shape on the page. I love to weave little stories into the central thread of a narrative and I'd wondered early on in the process if Wednesday might have an animal companion of some sort living on the outside of the bowl. By the time the charity called, I'd experimented with a cat, a pigeon and a crow. Somehow, a scruffy, big-eared dog suited the story perfectly.

I did go and meet Digger and we got on famously. He even stayed over for a few nights and we went on an adventure or two. But I missed Megan too much, so he kept his home at the shelter.

Digger's tale has a happy ending! I kept up to date with his progress and a week or two later Digger found his forever family.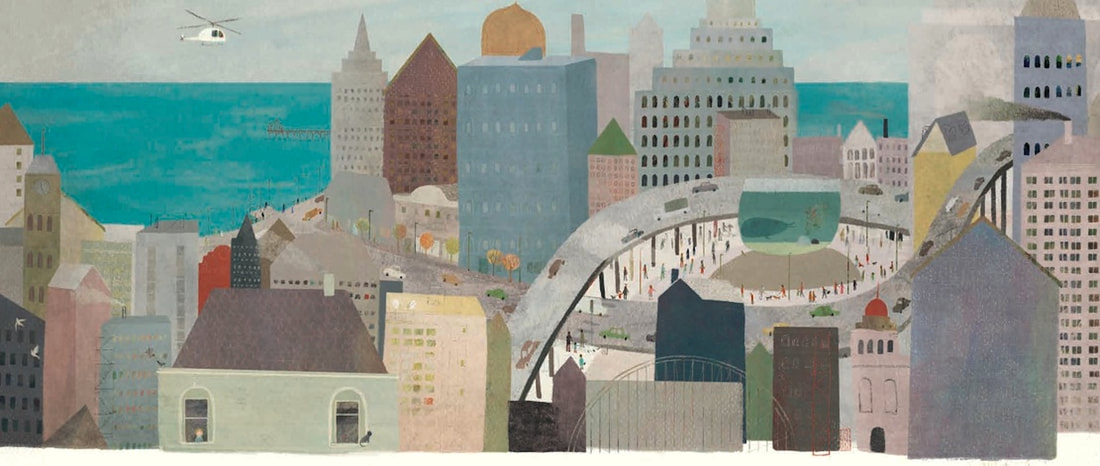 In the book's first panoramic illustration, showing the whale in the fishbowl from a distance with a dog alongside, there is a lonely child we have yet to meet, staring out her apartment window.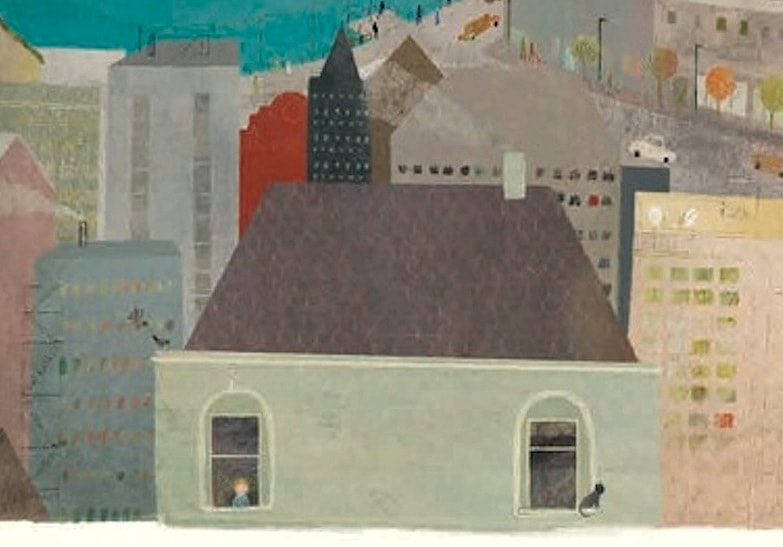 Starred reviews from Kirkus and Booklist. Release date is May 22.
You can preorder the book on Amazon
here
.
next up: WHALE IN A FISHBOWL : before and after Wednesday
last time:
WHALE IN A FISHBOWL : paisley patterns
Art © 2018 by Richard Jones.