T'S not as though we're lacking in translations and retellings of Hans Christian Andersen's works — there are enough to fill the world and an old pair of boots. My desire is to keep him alive in the twenty-first century, without straying from his original plot line and characters, particularly for American readers. By converting archaic, and sometimes esoteric, references and meanings into contemporary elements, settings, and language, I've endeavored to hold true to both his story and his spirit. Call it scuffing or marring, but eventually, the best boots are scraped and shined, if not resoled.

Now, picture the leggy Andersen, stretched in his favorite coffee nook, dressed in sweater and jeans and worn but fashionable footwear, with a laptop before him, gazing out at humanity ...

- - - - - - - - - - - - - - - - - - - - - - - - - - - - - - - - - - - - - - - - - - - - - - - - - - - - - - - - - - - - - - - - - - - - - - - - - - - - - - - - - - - - - - - - - - - - -

THE STATESMAN'S NEW SUIT

There is a make-believe world, just down the street from here, that's ruled by a very vain statesman. His public image means everything to him, and he has an outfit for every occasion. Never mind that he has pressing engagements, or citizens in need, as long as he can strut his latest stuff.

When his spokesperson says, "Mr. Statesman's conferring with councilors," the likely truth is that Mr. Statesman's changing his clothes.

The nation he governs bustles with business, day in, day out, twenty-four-seven. Or, individually, eight-five, with holidays and weekends off; and in the case of slackers, much less than is socially and morally acceptable.

Speaking of morals, there are also a great deal of scammers, who devise ways of taking money from the innocent, the ignorant, and fools.

Enter: two entrepreneurs, professing to be textile and fashion designers. Their product is like no other — it says so in their marketing campaign. A merging of science and aesthetics, the cloth they produce is nothing short of cutting-edge molecular magic. Besides being breathtakingly stylish, it appears virtually invisible to any incompetent or dishonest person. Only people of integrity can see it. It's the hottest of haute couture.

"Yes!" says the statesman, on viewing their presentation. "These are the clothes for me!" He explains to his detractors, and to his dubious staff, that it's an investment for the good of the people. "Any disloyalty — bam! — I'll know it. Who is able, who is not, who should stay, who should go, I'll know."

What a scam. Having measured the statesman well, these frauds will fashion a guise just for him. They'll get his big bucks, while exposing his big ego. Not to mention --

Ahem!

They set to work. They pattern and cut, cut and sew, and generate quite a buzz.

The statesman, however, suddenly has second thoughts. He's on pins and needles, so to speak. What if he cannot see the cloth? What if he sees nothing at all? Yet ... does he not have integrity? Isn't he fit to lead? Hadn't the people elected him?

Here's what he will do: He'll send his senior aide, someone who's proven himself to be true. Surely, if he can see this miracle, it must be as they say. A wise plan, Mr. Statesman, he says to himself, as he strikes a smart pose at his mirror.

When the aide pays the swindlers a call — and pays them money to boot — they are hard at work. But the aide can't believe his eyes. The body form is bare. Except for the patterns, the tables are empty. The sewing machines, while active, bereft.

Is he not an honest man? Is he not qualified for his job? The aide ponders this perplexity: If he admits to seeing no cloth, he'll lose his appointed post.

"Just look at this fabric," the designers say, interrupting his thoughts. "Fit for a king."

"It is!" agrees the aide. "Very fitting!"

"Notice the silver sheen, the gold iridescence. One-of-a-kind. In truth, unbelievable."

"Right!" says the aide, adjusting his glasses. "Iridescence! Sheen! Un ... un ..."

"Undebatable."

"Got it!" He commits their words to memory (most of them, anyway), should the statesman ask for specifics.

Which is exactly what he does. But the statesman's not satisfied yet — it's in his very makeup. So he sends his chief advisor.

"Examine the garments well," he charges. "Be sure it's as they say."

The advisor, who is also charged a fee, meets with the same dilemma. He stares and stares, and sees nothing.

"How is this for fine fabric?" they ask. "Have you ever seen anything finer?"

Surely, the advisor is not stupid. Yet — how awkward! If the senior aide has seen it ... Clearly, it's a no-brainer, for his high position's at stake.

"Amazing!" he says. "Incredible!" On his return, he tells how classy the clothing is, and so lessens the statesman's concerns.

Almost fully convinced, the statesman decides to see the work himself. Escorted by his senior aide, his chief advisor, and a selection of his staff, he pays the designers a visit (and, once more, more money). But one step inside and he stops. He glares, he stares, he knits his brow, and pales not a little. Here are the men, working away; here are the tables, the patterns, the machines; here's the mannequin.

But no cloth. Not a thread.

Shhh, shhh, shhh go the shears.

"Didn't we speak true?" asks the aide.

Shhh, shhh, shhh go the machines.

"Didn't we?" asks the advisor.

The statesman forces a smile. "Y-yes," he stammers. "Just as you said. Even more so — it's indescribable!"

"Mr. Statesman," says one of the designers, "it's our pleasure."

"Perfectly well-suited, sir," says the other, "for the upcoming Grand Parade."

Of course! How opportune! The officials eagerly nod. "The Grand Parade!"

The statesman now sweats not a little. His nerves are frayed, he hems and haws, but finally, he consents. What recourse does he have?

Like a running stitch, word spreads through social media and the news. Tongues flap, messages fly. Everyone is anxious to see this awesome innovation. And, whether or not they themselves are unlearned and false.

On the morning of the prestigious event, the statesman presents the designers with medals, which he pins to their lapels. For Your Fine Fabrication, the inscriptions read.

The designers present the statesman with a clothing rack, hung with several hangers.

"Here are the trousers," they say, touching an empty hanger. "Here is the shirt ... the necktie ... and the most elegant jacket on earth."

The statesman sputters, "I'm ... overwhelmed."

"Now, Mr. Statesman, with all due respect, kindly remove your clothes."

He does, and they dress him, leaving the necktie for last. "Allow us to tighten the knot ... There!"

Everyone applauds.

Though cold without his clothes, the statesman warms to their praise. "How amazingly lightweight," he says, and almost feels a thrill.

It is time. Out the doors, across the lawn, down the crowd-lined boulevard they go. The advisor heads the procession, the bodyguards walk alongside, and the aide brings up the rear.

So struts the statesman through the city streets.

Having heard much about the cloth's virtual properties, the masses hold their peace. No one wishes to be thought of as dense or dishonest. No one dares denial. Until ...

From the crowd calls an innocent voice, "Mr. Statesman, where are your clothes!"

"Ah!" someone gasps.

"Out of the mouths of babes!" someone quotes.

"The child can't be wrong!"

"She's as true as they come!"

"True — it's true!"

"He's got nothing on!"

"Nothing on!"

"Nothing!"

"On!" shouts the statesman, for his official cortège has faltered, along with his foolish heart. A chill spills down his spine, as reality smites his chest. Here he strides, dressed head to toe in shame, without a single stitch.

It's the spectators who are in stitches.

But it cannot be mended — the statesman can't concede to his blunder now. He must go on. And on he goes, his double chin held high, though, naturally, it shakes. Not to mention --

Ahem!

Let us hasten down the street and back to our sensible world.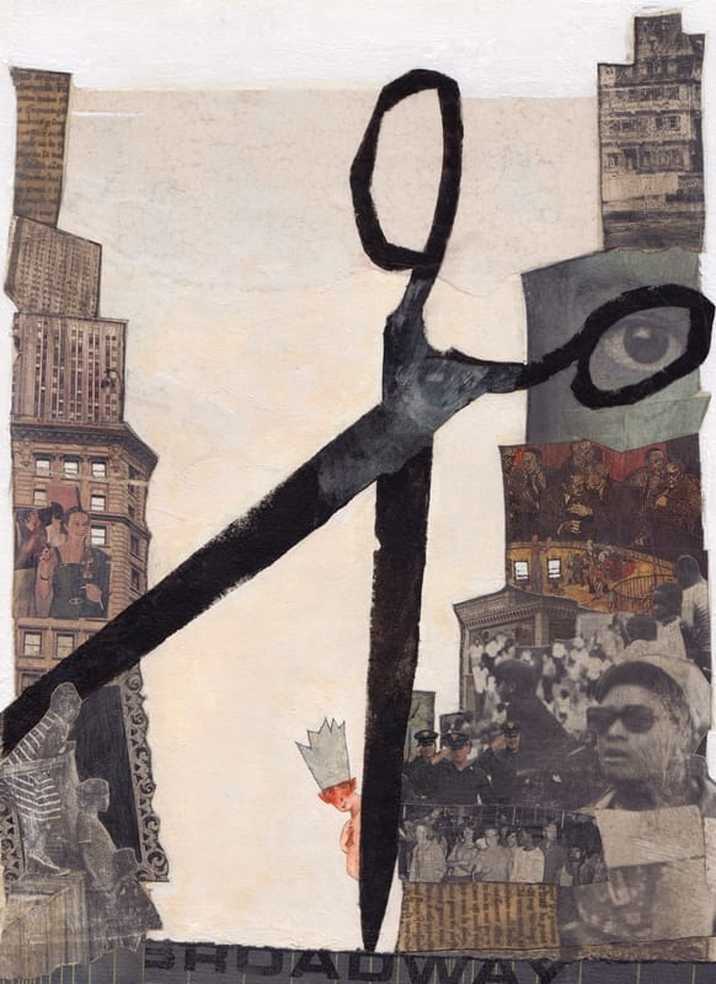 art & text © 2017 by Troy Howell