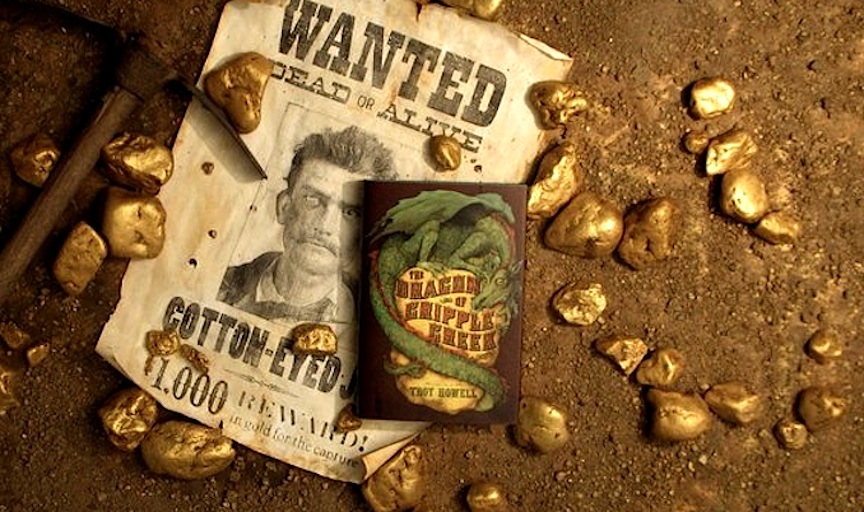 I put an ancient dragon, Ye, at the bottom of a real gold mine in Colorado, where he belongs. In the twenty-first century—where he does not belong. Kids love this novel of magical realism.
Grown-ups
do, too. Buy it
here
, or
here
.
Quotes from some of the book's characters:


Katlin Graham
("Calamity Cat"), narrator
They say it's darkest before dawn, and they are right. I don't mean the color of the sky.
How do you call a dragon? What kind of words do you use? Big words? Impressive words? But this wasn't
a
dragon.
This was Ye.
I was laughing and sobbing and crying Ye's name. Through the falling cinders, he gave me a look of surprise, like a clumsy giant who has knocked over a castle by mistake. He looked longingly then at the stars, and my heart stopped.
Does your heart keep swelling to make room for all the loves you have through life, until it swells so big it bursts, and you die?
Rex Havick
"private vigilante"
"If my nose is sniffin' right, it's all about you, Goldilocks. You and your little wheel o' fortunate."
"
This
, is the Bill Cody Camptown Ladies Sing This Song Doo-Dah-Doo-Dah Buffalo Burger."
Dillon
Kat's brother
"They still kill buffalo?"


"Desperado: Desperate in Colorado. It's perfect."
"I'll believe anything for Mom. I'll believe she rides the stars at night, the winds at day. I'll believe she's never been happier in all her life. I'll believe the angels sing all her favorite songs."
"Outhouse or bust."

Ye
dragon
"Absurd, how a vast geographical paradise can slumber in the sun and rain and snow for millennia on millennia, until someone comes and plants a name on it and declares ownership and writes songs about it and cuts it up like a cow and says this is yours and this is yours and this and this—" (on modern civilization and "America the Beautiful")
"You have taught me to think of now, and now is sweet."